Ship Shape: Who is Scott Borgerson and What Does Ghislaine Maxwell See in Him?
The power couple no one knew about, and what they have in common.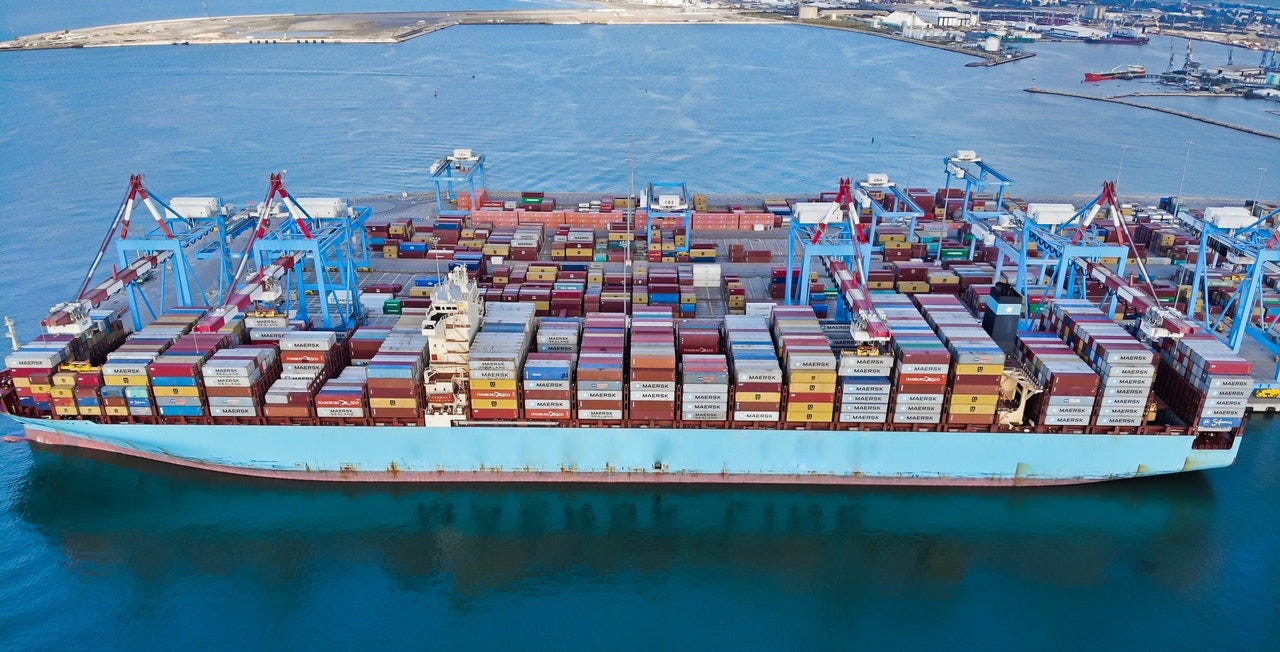 ONE OF THE DETAILS that emerged from this week's Ghislaine Maxwell bail hearing is that Jeffrey Epstein's longtime paramour and pimp was married—and not to her partner in crime. Kirby Sommers, the survivor and author who follows the Epstein story closely, suggested that the mystery spouse might be a man named Scott Borgerson:
Married or not, the two did have some kind of relationship—a romantic one, if the tabloids can be trusted. The Daily Mail reported that "Borgerson, 43, the CEO of a tech company, left his wife, Rebecca, for the 57-year-old five years ago, a source close to the family said," and that "Maxwell had been living with Borgerson at his $3m oceanfront mansion in Manchester-by-the-Sea for the past three years." Manchester-by-the-Sea is in Massachusetts, north of Boston—less than two hours away from Tuckedaway, the New Hampshire redoubt where Maxwell was busted by the FBI.
The Daily Mail presents a less-than-flattering portrait of Scott Borgerson: he left his wife and kids to be with Ghislaine, but before he left, there was a history of (alleged) heavy drinking and (alleged) domestic abuse. According to the divorce papers, he once threatened his wife: "Don't make me beat you in front of the kids."
So Ghislaine's knight in shining armor is not exactly Tom Hanks. But then, this is not the romance of the century. There are compelling reasons why Borgerson would be attracted to Maxwell, and vice versa—and none of them have anything to do with love.
The high seas, Rachel Slade tells me, are "the Wild West." She would know—she is the author of a book about the shipping trade, Into the Raging Sea. The laws that govern international waters are antiquated and arcane. Ships are routinely registered in small, corruptible countries like Liberia and Panama, the better to avoid oversight and regulation from more fastidious governments. When ships are lost at sea—which happens much more than you think—it can be difficult even to determine who ultimately owns the vessel, as ships are purchased by shell companies owned by shell companies, and so on to oblivion. It's anarchy—or, more poetically, "the outlaw sea," as the author William Langewiesche puts it.
Even something as simple as locating the 50,000 ships crisscrossing the ocean at any given time can be dicey. While ships are equipped with rudimentary GPS systems, called AIS, disabling them is a piece of cake, and when they fall off the radar, there is no alert mechanism, and no entity monitoring the vanishing.
There is no great urgency to change this. The shipping industry is notoriously slow to adapt to new technologies. And perhaps, on some level, companies prefer the oceans to be vast and unknowable.
Scott Borgerson's "tech company," CargoMetrics Technologies, applies big data to the shipping lines. And, to be fair, this is both very cool and desperately needed, given the horse-and-buggy approach to tech in the industry. CargoMetrics is billed as a "maritime innovation company," and it is. As I understand it, the company's proprietary software aims to monitor not just where the ships all are—via their AIS, or automatic identification system—but where they've been, and, ultimately, what they're carrying. This would make it possible to have a granular overview of the entire world's ocean transport system. "If someone could actually crack that," Slade says, "damn, that's like becoming god."
Unlike Ghislaine Maxwell, Borgerson did not come from money. His is an Horatio Alger story: from a small town in Missouri to a mansion on the sea, from nothing to millions. This is from his bio:
A former Coast Guard officer, he also commanded an 82' coastal patrol boat conducting search and rescue and law enforcement missions in the Gulf of Mexico, served as the ship navigator and boarding officer aboard a 376' high endurance cutter conducting counter-narcotics operations in the Caribbean, taught as an assistant professor at the U.S. Coast Guard Academy, and was the founding managing director of the Academy's Institute for Leadership. He recently joined the Board of Hivers and Strivers, an angel fund dedicated to financing veteran-led startups.
Per his bio, he was a fellow at the Council on Foreign Relations; has advised the White House on maritime policy; wrote a number of op-eds and articles in impressive publications; and is a co-founder of The Arctic Circle, a global NGO headquartered in Iceland—it was through speaking engagements related to this NGO that he reportedly first met Ghislaine Maxwell six years ago.
There are environmental applications to CargoMetrics' tech. This excerpt is from a June 2019 Boston Globe piece on shipping technology, written by John Konrad, a former sea captain who runs a maritime news site:
On the high seas, huge, unmonitored ships and underfunded coast guards conspire to destroy our oceans. Each lost ship and container leaks pollutants into the ocean, but without a standardized way to collect information, we don't know the specific chemicals, plastics, and hazardous materials dumped into our waters each year.

Last January, an oil tanker carrying one million barrels of toxic light oil condensate crashed into another ship causing a large oil spill. Days later, officials at the Global Fishing Watch (GFW), a project funded by Google to track fishing vessels, found large trawlers pulling fish out of the toxic water; they continued to fish knowing that buyers had no way of knowing that the food was tainted.

Because US Customs lacks the tools to view the history of where a shipping container was loaded, drug cartels have been emboldened. A few days ago, $1 billion worth of cocaine — 17 tons — was discovered aboard a ship docked in Philadelphia. Even the largest and most visible ships are difficult to monitor once they're at sea.

Just last month, Princess Cruises acknowledged violating probation terms from a 2016 dumping case. According to filings with the Justice Department, operators of the 951-foot-long, 3,142-passenger ship Caribbean Princess dumped plastic into the ocean, falsified records, and dispatched cleanup teams ahead of inspectors to avoid environmental violations.
Borgerson is in a position to help the environment. But that doesn't seem to be his ultimate goal.
---
The first thing Rachel Slade noticed about Scott Borgerson was how big he was—six-four, six-five, she estimated: NBA shooting guard-size. It was January 2019, and she was touring CargoMetrics at his invitation, with some vague notion of writing something for him or about him. He'd read her book, loved it, and arranged the meeting through his friend Phil Levine, the entrepreneur and former mayor of Miami, who'd unsuccessfully courted Slade to ghostwrite his autobiography after reading her book. 
The Boston office had the look of a start-up. Sparse furnishings, the look of having just moved in. There were a few models of ships and a gigantic LED television that tracked marine traffic in real-time. The employees were on the young side, Millennials all, and were recruited for their skills in mathematics, computer science, and engineering—although it was a decidedly hip staff of mathematicians, computer scientists, and engineers. Borgerson spoke with pride of his employees, his company, his vision—and his PhD ( in international relations from the Fletcher School of Law and Diplomacy at Tufts University). He wanted Slade to be impressed. It was hard not to be. Her interest in shipping had an environmentalist bent, and she could see how the company's tech could really help with ocean conservation. They discussed working on an article together, something he could run in Foreign Affairs, which had published him once—but only once.
Borgerson proved to be a political creature. What he wanted above all was a repeal of the Jones Act, a collection of 100-year-old laws that mandate that ships sailing from one US port to another had to be—and I'm simplifying here—American owned, built, and operated. He wrote out his argument for the repeal in a document titled "Make American Shipping Great Again." Despite the deplorably obsequious title, the piece makes what a layman like me would consider a compelling argument, but an expert like Slade recognized as "the same crap we've been hearing from the anti-JA folks for years." After some back and forth, the article she worked on with him wound up being scrapped, when she wanted to focus less on the Jones Act and more on conservation and the human rights abuses for which the industry is notorious.
At the time of the meeting, Slade had no clue about his relationship with Ghislaine Maxwell—and, through Maxwell, with Jeffrey Epstein. She also didn't know that Phil Levine, the entrepreneur and politician who'd introduced her to Borgerson, was listed in Epstein's notorious black book 13 times. (Levine says he doesn't know how or why Epstein got his digits). Even so, she couldn't help but wince when Borgerson told her about his investors—admitting, matter-of-factly, that he courted "oligarchs."
Borgerson was clearly ambitious—a man on the make. The last line of the Daily Mail reveals his ultimate goal: "He has confided in others that his dream is to become president of the United States." What better way to achieve those grand ambitions than to latch his star to Ghislaine Maxwell, and her unparalleled Rolodex of movers and shakers?
---
Before I discuss the implications of the Maxwell/Borgerson partnership, let me make clear that Scott Borgerson has done nothing wrong, legally speaking. It's not against the law to lobby to repeal an old act of Congress. It's not against the law to crunch data about ocean freight. It's not against the law to canoodle with Ghislaine Maxwell. Until her arrest two weeks ago, she had never been indicted for her role in Epstein's sex trafficking; on the contrary, she believed she had immunity, per his 2007 plea deal negotiated by Alan Dershowitz with US Attorney Alex Acosta. So legally speaking, Borgerson's in the clear. But morally speaking? You don't take the sex trafficking procuress of teens to bed. You know what she is. And he's smart enough to know better.
Per CargoMetrics, seaborne cargo transports some $9 trillion of goods per year—90 percent of all the things that go from Point A to Point B. Of all of that, Customs inspects a vanishingly small percentage. Most stuff gets where it's going, no matter what it might contain. The software Borgerson's developing could help crack down on smugglers and criminals—or it might do the opposite. If I'm a big fish in a global crime syndicate, I'd love to have a clearer understanding of global shipping. That would make it easier for me to move my banknotes, my arms, my drugs, my gems, my sex slaves, to avoid detection by authorities. To be clear: there's no indication Borgerson has this in mind—other than the fact that he courted "oligarchs" as investors.
Another enormously influential individual with personal interests in the regulation of the high seas is Elaine Chao—the wife of Senator Mitch McConnell and Trump's Secretary of Transportation. Her family owns, and her sister runs, the Foremost Group, one of China's foremost shipping companies. As Rachel Slade wrote for the Boston Globe:
The US Department of Transportation, over which Chao presides, oversees every aspect of anything in this country that rolls, flies, or sails, including the Federal Aviation Administration; the Federal Highway Administration; pipeline safety; and, most significantly, the Maritime Administration.

The media has dutifully repeated Chao's assertion that her family's company, Foremost Group, is small and American. That's intended to reassure us that Chao, as transportation secretary, is keenly attuned and sympathetic to the interests of American small businesses and the maritime industry. "My family are patriotic Americans who have led purpose-driven lives and contributed much to this country," Chao said in a response to the Times.

Except that no. Those familiar with the shipping industry know that when it comes to companies like Foremost Group, the term "American" is practically meaningless.
Given their mutual interests and their ties to the Trump Administration, Borgerson and Chao have to have some sort of relationship.
Finally, The Arctic Circle, the NGO that Borgerson co-founded, concerns the future of the actual Arctic Circle. That is a topic worthy of its own piece, but for now, let's just note that 1) the melting of that body of water opens up shipping lanes, and 2) there's a ton of oil up there, and the sanctions on Russia kibboshed an Arctic deal between Rosneft and Exxon that would have made Putin a gajillion dollars. (Rosneft, of course, is the entity mentioned in the Steele dossier, the sale of which was alleged to have benefited Donald John Trump financially.)
What this all means remains to be seen. But the attraction between Scott Borgerson and Ghislaine Maxwell is not just romantic in nature. As Henry Kissinger once remarked, power is the ultimate aphrodisiac.
---
Photo credit: Alexander Bobrov from Pexels