Discover more from PREVAIL by Greg Olear
PREVAIL is a regular column about politics, history, national security, foreign affairs, organized crime, dirty money, global corruption, the fight for democracy—and, on Sundays, poetry and literature.
Over 24,000 subscribers
Dear Reader,
When we moved up from the city 15 years ago, we didn't know a soul in the Hudson Valley. After years of living in apartments, of taking the subway all over town, of owning no land at all, we found ourselves with a house, and two cars, and a lawn that needed mowing. We had an aging cat, and a baby who demanded most of our attention. It was during this time that I wrote my two novels, and involved myself in online writing communities.
There is a hip local magazine called Chronogram. It's free; you just have to pick up a copy at any one of dozens of drop-off spots. Back in 2006, the literary editor of that magazine was named Nina Shengold. She first came to my attention because Chronogram ran a contest called "Joined at the Hip." The idea was: combine the titles of two books, and write a short blurb summarizing the new book's contents. I submitted three, one of which got printed in the magazine:
Bright Lights, Big City of God
Theological musings of a fifth-century saint on a coke binge.
(They did not pick this one, which I thought was funnier:
The Pelican Brief History of Time
A British physicist threatens to reveal the secrets of the universe—unless a Memphis DA can stop him.)
I won a t-shirt, which I was proud of, and wore to death.
Since then, I've come to be friends with Nina. She is the doyenne of the Hudson Valley literary scene. She knows everyone, helps everyone, is exceedingly generous with her time and attention. She's also a superb writer, as you will soon see, and a prolific one.
Her fantastic new book Reservoir Year is the perfect read in the Age of Quarantine. I'll let her explain:
In the fall of 2015, I started walking on the Catskills' Ashokan Reservoir at all times of day, in all kinds of weather, alone or with friends, and writing about what I noticed each day. I had no clue I was writing a period piece, set in a golden age of innocence, pre-Trump and pre-COVID. At the end of the year I had 366 micro-essays (it was a leap year) and the first draft of a book called Reservoir Year. Here's how it began, and a few random moments from the other three seasons. (Kate McGloughlin, who appears in the summer entry, did the gorgeous cover painting.)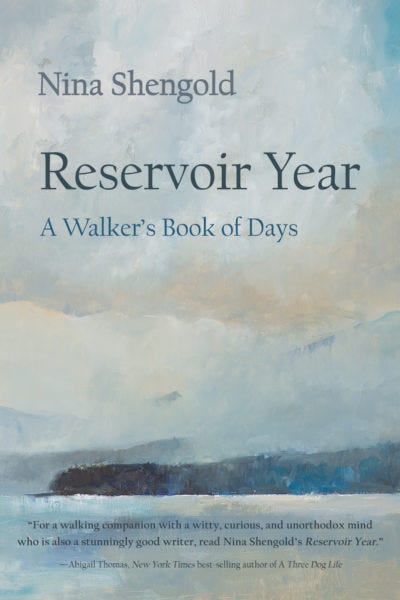 Day 1. September 15, 7 PM
Sunset walk along the Ashokan Reservoir under whisper-pastel sky. Two deer graze on the steep embankment below the walkway over the Olivebridge Dam. I stand still, holding my breath as they work their way toward me. The doe stays a few yards downhill, but the fawn comes so close I can see white fur lining its ears and hear its teeth munching vetch.
A bicyclist passes. They spook and charge down the hill, white tails flashing. I turn to see western clouds streaked flamingo, with a sliver of new moon hovering over the cleft of Slide Mountain.
Day 153. February 14, 2:30 PM
Valentine's Day broke at nine below zero, wind chill minus twenty. If eagles are mating in this, they're insane.
I wait till the afternoon temperature soars to a balmy eleven degrees and park at the Frying Pan. The spillway channel is still glassine, the Lower Basin a striking divide between tumbled white ice and brilliant blue waves. It hurts to inhale, a dry burn in the nostrils.
One crow holding forth: Fuck fuck COLD, fuck fuck COLD.
I'm with him.
Day 243. May 14, 3 PM
I park near the West Hurley dike road, donning my who-are-you-kidding fishing gear: tan baseball cap, windbreaker, backpack with collapsible pole sticking out. The disguise is undermined by my Pete Seeger and City Lights bumper stickers (on a nontruck) and more essentially by gender. I've sometimes spotted a male/female pair out fishing; most often it's two old guys, two young guys, or one of each. But I have never, not once, seen a woman shore fishing alone.
Well, there's one now: me. Never mind that a closer inspection would find my backpack bait-free. I have my license and pole, and if a DEP cop stops me on one of these paths, I'm within my rights. Letter of the law, bub. I'm walking the walk.
The waterline is so high there's no beach at all, so I follow an inland path, hoping to reach the wild point past the cluster of rowboats. Bluets dust the grass at the start of the trail, and there's a tangle of oily maroon poison ivy, which disappears as it gets shadier, yielding to mottled rattlesnake weed and a lone partridgeberry, red and round as a marble.
The trail leads to a pond that's been quarried on one end, leaving a pile of big bluestone slabs as an island. The water's clear, sparkling. It looks like a moose should be drinking here.
There's no clear path to the reservoir's edge, but I can see water through the trees. I follow a crumbling stone wall, which makes me wonder how long ago that pond was a quarry. Did it predate the dam? Was its bluestone used to construct the dike? I try to imagine these woods full of men in suspenders, loading stone onto carts hauled by mules.
I spot a dark curl of dried stool, full of berry seeds. Bear. But it's shriveled, not recent. One of my neighbors just saw a tiny cub asleep on a branch over Route 28A. Cubs mean vigilant moms, and I wonder if I should head back to my car. But I'm closer to the waterline now than the trail, so I push on.
The point is completely submerged, with dozens of small trees emerging from floodwater. The drowned forest looks eerie, like footage from Beasts of the Southern Wild. I hear something banging against the trunk of a large tree and step closer to look. It's an enormous dead carp, rolling against the base of the trunk with every wave, so big it sticks out on both sides of the tree. Mouth open, a rigid white O, with white barbels on either side, stiff as porcupine quills. The scales look like huge dirty sequins, yellowish tan. The ridged fins are the size of my hand. It's been a long time since my deckhand days, but I'd guess at least twenty-four inches and ten or twelve pounds, what we called a "money fish."
Monster goldfish, slamming a tree trunk. I can't look away. Then I think of that bear, of the pervasive smell of dead fish, and a voice in my head says, Get out.
I stumble along the drowned shore to the rowboats. The water's so high that a couple of boats are afloat, still chained to their trees. I see a tire, part of a Styrofoam cooler, a Rolling Rock can. What we leave in our wake.
Day 337. August 16, 5:25 PM
Sweltering. The long-horned Highland cows at Vly Farm stand chest high in their small muddy pond, cooling off.
Storm clouds over the mountains. Water like satin. The air sweats.
A Y-shaped branch sits on the center line like a divining rod. Monarch butterfly drying wet wings atop a dead weed. Did it just hatch? Is it wounded? Just as I start to wonder if it might be dead, it closes and reopens its wings, very slowly. It sits still a few moments and lifts off, fluttering, dipping, then swooping down onto a Queen Anne's Lace blossom.
A young woman reads news off her phone to her boyfriend. "A bear broke into the Phoenicia Liquor Store!" They both burst out laughing. Drunk bear!
Charcoal clouds roll in like a special effect, lava-lamp changeable. One of them beckons to me like a big 3-D hand, then dissolves in a swirl.
Another cloud is three pronged, wicked witch flying out of the west. This is the one with the payload—it's blotting out mountaintops as it comes closer. The beach looks exactly like the bookjacket of Billy Collins's Picnic, Lightning: glowering sky, ominous yellow foreground.
Kate McGloughlin and Sarah Stitham walk out on the dam. Kate gestures upward. "Now that is a painting!"
"That's about twelve paintings."
She nods with her native enthusiasm. "How are you? Are you very very well?"
This time I just say yes. "I love that there's a sunset going on somewhere behind all of that."
"That's the metaphor, isn't it?" Kate says. "For this whole election cycle. There's a sunset going on somewhere behind all of this."
Metaphor for more than elections, I think.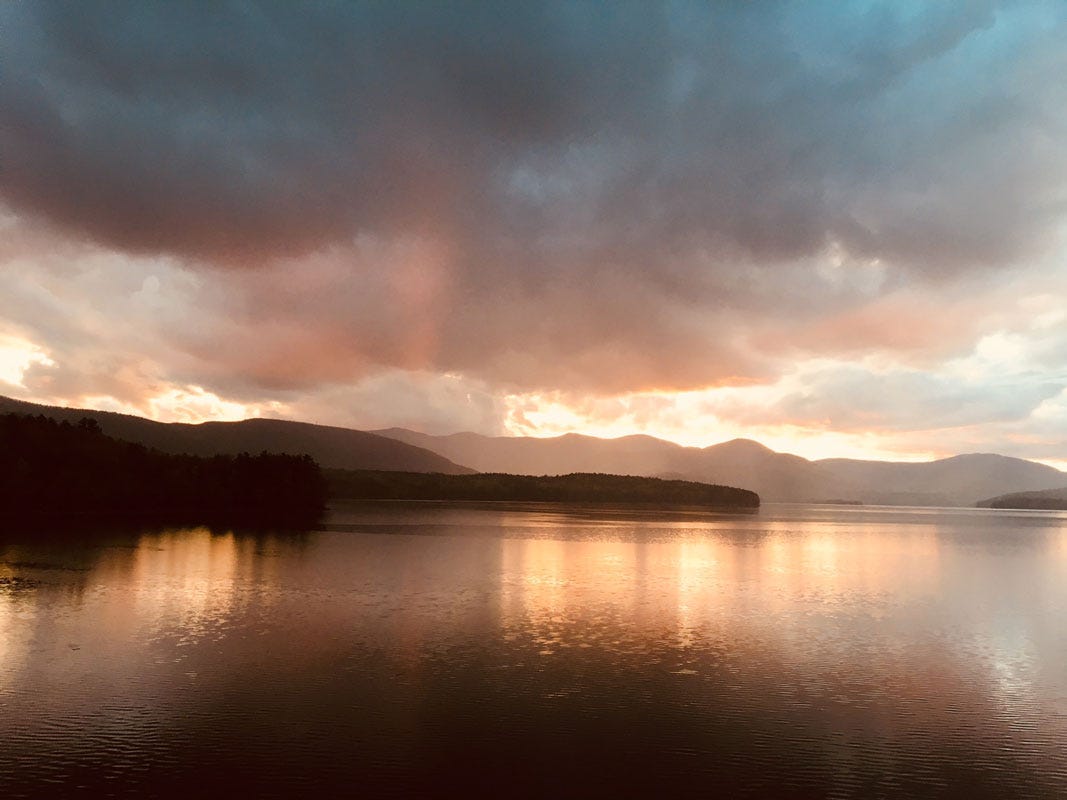 Photo by Nina Shengold.
---
Nina Shengold's books include Clearcut (Anchor Books), a Book Sense Notable selection; River of Words: Portraits of Hudson Valley Writers, with photographer Jennifer May (SUNY Press); and 14 theatre anthologies for Vintage Books and Viking Penguin, many co-edited with Eric Lane.  She won a Writers Guild Award for her teleplay Labor of Love, with Marcia Gay Harden; other screen credits include Blind Spot, with Joanne Woodward and Laura Linney; and Suzi Yoonessi's short film No Shoulder, with Melissa Leo.  Shengold's plays are published by Playscripts, Samuel French, and Broadway Play Publishing.  She has profiled more than 200 writers for Chronogram, Poets & Writers, and Vassar Quarterly.  A founding organizer of Hudson Valley Writers Resist, Word Cafe, and Actors & Writers, she teaches creative writing at Vassar College.